Bishop's Stortford Independent: Stone Valley Festival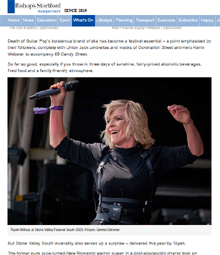 Stone Valley Festival South: Toyah provides moment of magic with a Fripp down memory lane
But Stone Valley South invariably also serves up a surprise – delivered this year by Toyah.
The former punk pixie-turned-New Romantic warrior queen in a post-apocalyptic chariot took an unenviable early spot, but drew a huge crowd.
As an early adopter of her 1980s make-up brand, available in Woolworths, I made the effort to join them. Frankly, I was curious about exactly what kind of novelty act we would see, but she was pure class.
For the uninitiated, Toyah Willcox has been married since 1986 to musician Robert Fripp, founder and guitarist of prog rockers King Crimson.
• Continue reading at Bishop's Stortford Independent.