Birmingham Post: Pop Back In Time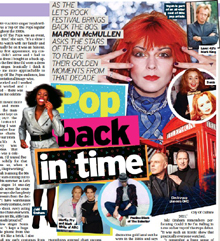 Toyah was interviewed this week by the Birmingham Post, in a joint feature with other 80s musicians. Here are a few quotes from the article.
Toyah is part of an all-star Let's Rock cast of 80s pop artists. Martin Fry and Mark White of ABC. Pauline Black of The Selector. Electro pop pioneers OMD and Level 42's Mark King.
Flame haired singer Toyah Willcox was a Top Of The Pops regular through the 1980s
"Top Of The Pops was an event, every time," she says. "It's a show I used to watch with my family and to actually be on it was an honour."
"I worked and I worked and I worked and I worked – there was no time for celebration."
"A hit meant more work and more work; the management kept us going 24/7. The excitement knowing I was at number four in the charts with Four From Toyah/It's A Mystery was immense. That alone was a celebration. I'd toured five years solidly for that success so, when it came I kept working."