Toyah! Toyah! Toyah!: Review by At The Barrier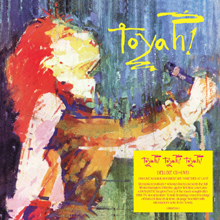 Third instalment in Cherry Red's deluxe reissue series of Toyah's Safari Records catalogue
Release Date: 13th May 2022
Label: Cherry Red Records
Formats: CD + DVD, Limited edition neon yellow vinyl
So – here we are again. Just about a year ago, we were pleased to review the deluxe reissue of Toyah's second album, The Blue Meaning, and now, here comes installment number three in Cherry Red Records' Toyah reissue series – a CD/DVD reassessment of the seminal 1980 live album, Toyah! Toyah! Toyah! And, as usual, it's a cracking package. The CD-half of the package comprises, for the first time, the entire concert – complete with encores – from Toyah's show on 17 June 1980 at Wolverhampton's legendary Club Lafayette. The CD is accompanied by a DVD of the 1980 ATV documentary film 'Toyah' – a splendid period piece that captures Toyah at home, at work and at play, just as she reached the very cusp of her major commercial breakthrough. As usual, the package comes complete with an informative booklet, this time with detailed sleevenotes from Craig Astley, Toyah's official archivist, and an introductory reminiscence from Toyah herself.
The gig at the Club Lafayette was added, for the benefit of the ATV camera crew, to the itinerary of Toyah's 1980 Ieya Tour to provide some live footage for inclusion in the documentary that was in the process of being compiled. The band played a slightly shorter set than was normal for the time, with material drawn exclusively from the debut album Sheep Farming In Barnet and the (then) new release The Blue Meaning and the resulting live album, Toyah! Toyah! Toyah! was a triumph. Toyah is on top form as she shrieks, squeaks, groans and howls her way through a dramatic performance. The recording captures the enclosed atmosphere of the packed club wonderfully – in the way that the best live albums always seem to manage – and the setlist is inspired. Toyah! Toyah! Toyah! Reached number three in the indie chart and stayed in that chart for over a year and was Toyah's first album to creep into the national album chart, peaking at number 22. Big things were just around the corner, and that impending breakthrough seems to ooze from the very grooves of this album.
• Continue reading at At The Barrier. See links to three other Toyah! Toyah! Toyah! (Deluxe Release) album reviews… + recent news!