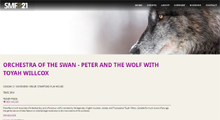 Toyah will appear at SMF 21, Stratford Music Festival, later this year.
She will be the Narrator of Orchestra Of The Swan – Peter And The Wolf at the festival on Sunday 21st November.
Prokofiev's much-loved tale of a fearless boy and a ferocious wolf is narrated by the legendary English musician, actress, and TV presenter Toyah Willcox. Suitable for music lovers of any age this performance will also feature an entertaining introduction to the instruments of the orchestra.
• Visit the Stratford Music Festival website.