BBC Radio Lincolnshire: ITCOTCQ is Album Of The Week!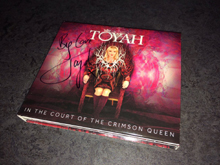 In The Court Of The Crimson Queen is BBC Radio Lincolnshire's Album Of The Week.
A track will be played each day this week by Amy Claridge (sitting in for Melvyn in the Morning) at 10.30am. There's also the chance to win a signed copy of the CD on Friday.
• Listen online at BBC Radio Lincolnshire. The morning show begins at 9.30am and airs for 3hrs and 30mins. (Photo © BBC Radio Lincolnshire)