Anthem Deluxe/Remastered: Review by Velvet Thunder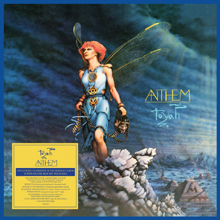 Toyah – Anthem
Deluxe Reissue (Cherry Red)
This is, of all the Toyah reissues this far, also recommended to the casual fan. It contains just as much challenging 'meat' as the previous albums, but with the familiar hooks which will help less seasoned travellers navigate the truly fascinating outposts. Unreservedly recommended.
With this 2CD/DVD set, the deluxe Toyah reissue campaign from Cherry Red reaches 1981 – with an amazing four releases having spanned the previous two years from 1979. Anthem, the third studio album, was both the mainstream breakthrough and simultaneously an album which almost didn't get made. Following the previous year's live album Toyah! Toyah! Toyah!, the band (which we must remind ourselves, was itself named 'Toyah', in much the same way as 'Alice Cooper' was originally the band name as well as the frontman) fell apart, leaving just Toyah herself and creative lynchpin guitarist Joel Bogen. A short-lived band was assembled but quickly fell apart again after not really working out, and it seemed as if Toyah, the band, might be done. Toyah herself almost became the full-time vocalist with the band Blood Donor, who had the original version of It's A Mystery in their repertoire, but after a few demo recordings that didn't come to fruition. Nick Tauber, recruited as producer again after his work on the live album, pulled together a new crew along with Bogen, comprising bassist Phil Spalding, keyboardist Adrian Lee and future Saxon drummer Nigel Glockler. The new line-up recorded and released the four-track EP Four From Toyah early in 1981, with It's A Mystery as its lead track, and the record's unexpected massive success ensured they would not look back from that point on.
• Continue reading at Velvet Thunder. See more reviews of Anthem and other releases here.