The Northern Echo: Give Them Wings at Venice Film Festival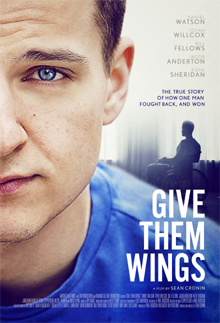 Story of disabled Darlington fan flies to Venice Film Festival, down Oscar path
Give Them Wings, an upcoming film about the struggle of Quakers fan whose battle with meningitis as a child left him disabled, has finished production and began down the Oscar path.
The movie, which is undergoing final edits, follows the story of wheelchair-user Paul Hodgson who "was told he would only live to five but is now 55" and has been sent to Venice Film Festival – an Oscar qualifier.
Give Them Wings has been accepted but not yet selected, though the team will know in the coming weeks.
… The story of his childhood struggles with the disease, which looks at life as a disabled person, filmmaker and Darlington football fan, has attracted a cast including Toyah Willcox and film newcomer but previous Byker Grove actor Daniel Watson, who plays Mr Hodgson.
Now, the low-budget film which was seven-years in the making and relied on a crowdfunding campaign, is on the Oscar trial, hoping to be shown major film festivals and "navigate the narrow corridor" to the Oscars.
• Continue reading at The Northern Echo. Browse further info on Give Them Wings at longdogproductions.co.uk. See some photos from the film at darlingtonfc.co.uk.