Record Collector: Toyah – Mystery Girl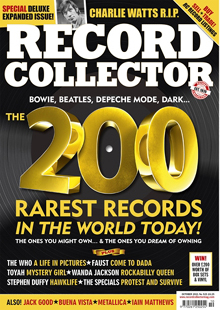 Toyah is interviewed in the latest issue (523, October 2021) of Record Collector magazine.
"I thought I was part of the movement, but the movement never accepted me."
Re-energised by a long overdue reissue campaign of her early music and the release of Posh Pop, her first album for 13 years, Toyah talks to RC523 issue
ISSUE NO: 523
Exclusive features include:
THE TOP 200 RARITIES IN THE WORLD TODAY – You read about the 200 rarest and most valuable collectable records in the UK in these pages last year. Now we're looking further afield for hard-to-find vinyl,
this time scattered across the globe. Warning: may require second mortgages
TOYAH – As her early albums are finally reissued, Ms Willcox talks punk, punching Adam Ant and lockdown celebrity
THE WHO – A pictorial potted history of the mod pioneers, from beat pop riot boys to still-windmilling Britrock royalty
WANDA JACKSON – The queen of 50s rockabilly and contemporary of Elvis and Johnny Cash is still going strong – but is her new album to be her swansong?
STEPHEN DUFFY – The mercurial folk-pop songwriter retraces his early days in neglected Brum post-punks The Hawks
FAUST – The "Dada Beatles" early output still sounds thrillingly unhinged 50 years on. We hear about its suitably anarchic evolution from four of those who lived to tell the tale
• Record Collector magazine, Issue 523 is on sale now!