Film And TV Now: 'Give Them Wings' Review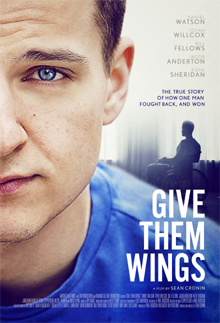 A great review of Give Them Wings:
Give Them Wings screens as part of the online London Independent Film Festival 2021.
Amidst the challenges of the recent pandemic, a shining light emerged in the form of centennial hero (and sadly recently departed) Captain Sir Tom Moore, whose mega-effort to raise millions through his walking laps around his garden made him the hero of the status quo and a legend of 2020.
Now, a new film from multi-hyphenate talent Sean Cronin celebrates the life of a disabled football fan called Paul Hodgson – and is pretty incredible on its' own terms.
Adapted by Hodgson from his 2000 novel Flipper's Side (with additional writing from Cronin, Ian Carter and Tony Waddington) Give Them Wings chronicles events starting in 1989, when Darlington fan Paul (Daniel Watson) , diagnosed with meningitis from ten months – and given two hopes – is using a wheelchair to move around. His mother, Alice (Toyah Willcox in a career-best appearance), is struggling to cope with struggling husband and Paul's father, Norman (Bill Fellows) who has signed on again for the umpteenth time and prone to bouts of depressive laziness.
• Continue reading at Film And TV Now.