Toyah! Toyah! Toyah!: Review by We Are Cult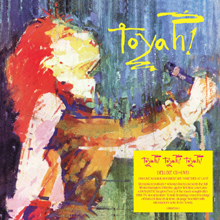 Alive, She Cried: 'Toyah! Toyah! Toyah!'
❉ Cherry Red continue with their impressive re-releases of Toyah's albums, writes James Collingwood.
After only two albums it may have seemed slightly early in Toyah's career to record a live album. However there appeared to be three reasons for the release of Toyah! Toyah! Toyah! in 1980.
One: Toyah had been filmed for a one-hour ATV documentary that included clips from this gig and brought her nationwide coverage. Two: It was a last add on gig of a UK tour and would be the last time she played with this particular band. Thirdly: She was on the cusp of stardom and becoming a regular Smash Hits and Look-In cover star.
Cherry Red continue with their impressive chronological repackaging of Toyah's Safari Records albums with their re-release of the live album Toyah! Toyah! Toyah! Presented as an expanded deluxe CD+DVD and a limited edition coloured vinyl LP this album includes the full ATV documentary Toyah!, originally broadcast December 1980, a 24-page booklet with artwork and photos, an introduction by Toyah herself and sleeve notes by Toyah's archivist and compiler Craig Astley.
Toyah must have been the hardest working woman in showbiz at the time and really was on a mission to succeed. She seems to have been everywhere. As well as fronting and touring with the band Toyah was constantly working as a TV, film and stage actress. On stage she had recently appeared in Nigel Williams' Sugar and Spice at the Royal Court. She had appeared as Monkey in Quadrophenia, in Derek Jarman's Jubilee and The Tempest, and who can forget her appearance in Shoestring!
• Continue reading at We Are Cult. See links to four other Toyah! Toyah! Toyah! (Deluxe Release) album reviews… + recent news!