Virtual Woo Fest 2020: And That's A Wrap!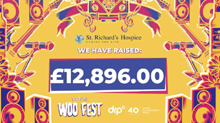 And that's a wrap! A massive thanks to everyone involved in today's Virtual Woo Fest. An incredible day of music only possible through an incredible human effort at the current time. And supported by our incredible Worcestershire community raising £12,896. Thank you from us all.
NB. Since this post the total was updated again.
Your Virtual Woo Fest donations continued into the small hours taking us to an incredible. £13,245.57!
• Continue reading at St Richard's Hospice at Twitter.