The Blue Meaning: Review by We Are Cult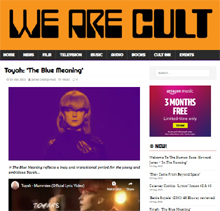 A review of The Blue Meaning by We Are Cult.
Toyah: 'The Blue Meaning'
"Cherry Red's second re-release of Toyah's early output, The Blue Meaning is full of lyrics that reflect her interest in sci fi, occultism and Nostradamus… Self-admittedly pretentious in a good way, Toyah's lyrics and singing style often also seem to be influenced by Broken English-era Marianne Faithful and Patti Smith."
1980 was a busy year for Toyah. Working as both an actress and a musician she was only 22 but had already appeared in films such as Quadrophenia, Derek Jarman's Jubilee and The Tempest and George Cukor's remake of The Corn Is Green with Katherine Hepburn and Patricia Hayes. As well as television work in Shoestring, Second City Firsts and the TV remake of Quatermass, Toyah had also already acted in productions at the National Theatre.
In this short one-year period Toyah starred in a Royal Court production of the controversial Nigel Williams play Sugar and Spice, filmed over the course of three months for an hour-long ATV documentary, appeared in the TV series A Question of Guilt and Dr Jekyll and Mr Hyde and guest-hosted the talk show Friday Night, Saturday Morning in which she interviewed (and played Space Invaders with!) Steve Strange, Derek Jarman and Vivian Stanshall. The year was also the prelude to her chart success of 1981, which occasioned hit singles It's A Mystery, I Want To Be Free and Thunder in the mountains and numerous Smash Hits and Look-In covers.
• Continue reading at We Are Cult.