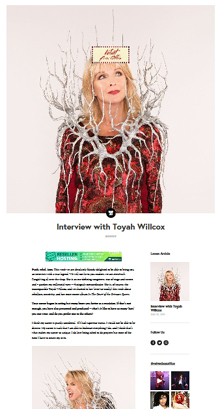 Punk, rebel, icon. This week we are absolutely bloody delighted to be able to bring you an interview with a true legend. We will not lie to you readers, we are starstruck. Fangirl-ing all over the shop. She is an era-defining songstress, star of stage and screen and – pardon my millennial-ness – #hairgoals extraordinaire. She is, of course, the incomparable Toyah Willcox, and we chatted to her (ever-so-coolly) this week about rebellion, creativity, and her most recent album In The Court of the Crimson Queen.
Your career began in acting but many know you better as a musician. If that's not enough, you have also presented and produced – what's it like to have so many 'hats' you can wear, and do you prefer one to the others?
I think my career is purely accidental.  If I had superstar status, I would not be able to be diverse. My career is such that I am able to kickstart everything I do, and I think that's what makes my career so unique. I do love being asked to do projects but most of the time I have to create my own.
So much of your work is based around – or an expression of – nonconformism, of rebelling. What do you think we should all be rebelling against nowadays, and what do you think the best form of rebellion is?
I am going to answer the latter first. The best form of rebellion is non commitment to what you don't believe in and don't want to support. The internet has proven that hatred is a too easy and convenient instrument to block all creativity. And, answering the first part of the question, the best rebellion we can have as exceptionally creative unique creatures is not to accept the mundane. For me the mundane is when you are encouraged to imitate others. None of us needs to imitate – we are all unique.
• Continue reading at Velvet Box Office.