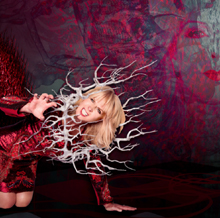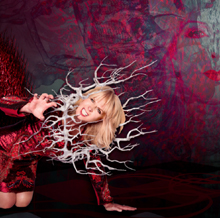 Toyah's newly published blog – including another previously unseen In The Court Of The Crimson Queen photo + a behind-the-scenes shot by Tony Levin – is available to read at toyahwillcox.com. (Photo © Official Toyah)
HELLO FROM THE CRIMSON QUEEN! What an extraordinary month it has been. IT'S GONE CRAZY!
THANK YOU to everyone for pre-ordering IN THE COURT OF THE CRIMSON QUEEN and placing it at NO.1 in most of the Amazon Pre-order charts, that was a fantastic beginning to this albums journey. It has been non-stop ever since.
I have been averaging 15 interviews a day and requests are still coming in, it looks like the promo train will be carrying on for a few months……radio/TV/newspapers…..every spare minute is filled.