The info/order page for the new issues of Dreamscape's Toyah fanzine is now online. This is a bundle of three issues for Summer 2021 (Issues 41 – 43). 2021 is the ninth year of the fanzine!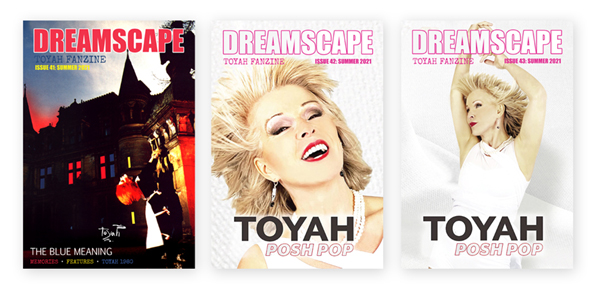 Two are dedicated to Toyah's forthcoming, and highly anticipated, new studio album, Posh Pop, and the third is focusing on The Blue Meaning, and specifically the recent deluxe reissue of the album. Two of the fanzines are mini issues (Posh Pop and The Blue Meaning, Issues 41 and 43) and one is a main issue. (Posh Pop, Issue 42).

I've been working on these new fanzines recently and have already completed a few of the features that will be included. Above is a preview of a completed four page feature on Posh Pop's various CD and vinyl releases.
• Click here or any of the images above to browse the info/order page.