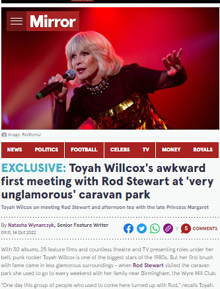 Exclusive: Toyah Willcox's awkward first meeting with Rod Stewart at 'very unglamorous' caravan park
Toyah Willcox on meeting Rod Stewart and afternoon tea with the late Princess Margaret
With 30 albums, 25 feature films and countless theatre and TV presenting roles under her belt, punk rocker Toyah Willcox is one of the biggest stars of the 1980s. But her first brush with fame came in less glamorous surroundings – when Rod Stewart visited the caravan park she used to go to every weekend with her family near Birmingham, the Wyre Mill Club.
"One day this group of people who used to come here turned up with Rod," recalls Toyah. "I was only six at the time, so I didn't really know who he was. I just remember everybody was going absolutely crazy and the girls were all screaming, 'oh my god, it's Rod Stewart!'.
"The club is just that kind of place, where stars come to hide. Paul Weller was here recently and we've snuck Kate Bush in here before. When I became famous, I'd go there myself to escape the paparazzi."
Since she burst on to the music scene as the front woman of the new wave band Toyah in 1977 following appearances in plays, Toyah, 64 has rubbed shoulders with many famous faces. Also an actress, she starred alongside Phil Daniels in 1979 mod flick Quadrophenia and iconic actor Laurence Olivier in 1984 TV movie the Ebony Tower, and she also went into the I'm A Celebrity jungle in 2003.
• Continue reading at The Mirror.