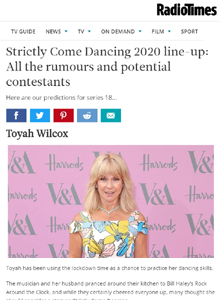 Strictly Come Dancing 2020 line-up: All the rumours and potential contestants
Here are our predictions for series 18…
The BBC's Strictly Come Dancing is officially coming back, with the 2020 series now confirmed although for a much shorter run.
Strictly will reportedly begin in October, which means this year's event could be nine weeks instead of the usual 13. With many shows having to cancel production, due to the coronavirus, we couldn't be happier that Strictly is still going ahead.
Toyah Willcox: Toyah has been using the lockdown time as a chance to practice her dancing skills.
The musician and her husband pranced around their kitchen to Bill Haley's Rock Around the Clock, and while they certainly cheered everyone up, many thought she should consider a stint on Strictly Come Dancing.
One fan shared: "Next stop Strictly Come Dancing 2020!" Another added: "I hope Strictly haven't finalised their line-up for this year…"
• Continue reading at the Radio Times. Read an earlier RT "Toyah for Strictly 2020!" here.