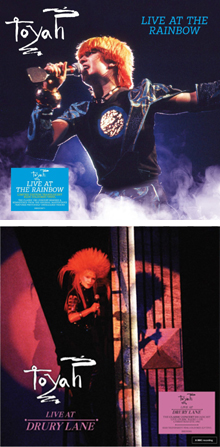 TOYAH – LIVE AT THE RAINBOW / LIVE AT DRURY LANE (CHERRY RED)
These two releases now available form a perfect set of stepping stones leading from the club-venue rawness of Toyah! Toyah! Toyah! to the theatrical, large scale Changeling shows which birthed Warrior Rock. They have been a long, long time coming, and they are most welcome to say the least.
Continuing the excellent Toyah reissue series comes the bonus of two albums, both originally recorded in 1981, to follow up the slightly earlier Toyah! Toyah! Toyah!, recorded the previous year. Interestingly, however, these two albums – which nicely bridge the gap between the raw Toyah! Toyah! Toyah! album and the later more populist Warrior Rock double – are less reissues than they are entirely new releases. Live At The Rainbow, of course, from a February 1981 show, was a popular video release back in the day, but oddly enough has never seen the light of day in audio form until now. Live At Drury Lane, on the other hand, is a show from the latter end of that same year, originally broadcast by the BBC on the annual Old Grey Whistle Test Christmas In Concert programme, and has only ever been available, for a relatively short time in incomplete form, on a BBC videotape called Good Morning Universe. The differences between the two releases really highlight how much was going on within a few months of this highly successful year, and is a large part of what makes these releases a fascinating back-to-back listen for fans.
• Continue reading at Velvet Thunder. Live At The Rainbow and Live At Drury Lane are available in both CD+DVD and colour 12″ vinyl from Cherry Red Records.