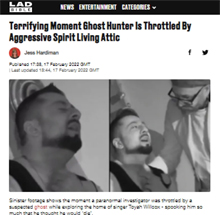 Terrifying Moment Ghost Hunter Is Throttled By Aggressive Spirit Living Attic
Sinister footage shows the moment a paranormal investigator was throttled by a suspected ghost while exploring the home of singer Toyah Willcox – spooking him so much that he thought he would 'die'.
Expert Barri Ghai was looking into paranormal activity in Willcox's house for the series Celebrity Help! My House is Haunted when the spooky incident allegedly took place.
Ghai was joined by colleagues Ian Shaw and Jayne Harris, having set up a special 'REM' recording device.
In the clip, Ghai says: "The REM is going off, I don't know why."
• Continue reading at Lad Bible. Celebrity Help! My House Is Haunted is streaming from today on Discovery +