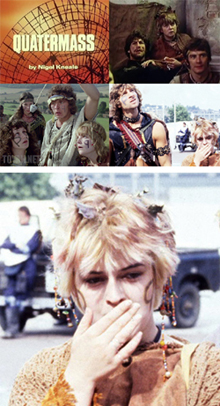 Quatermass: Talking Pictures TV: Fri 17th Dec: 8pm
Chapter Four: An Endangered Species. Quatermass showing signs of his recent narrow escape emerges from the car park to find the stadium empty. An estimated 70,000 people died there. So many have now been harvested that the particles of dust in the air have turned the sky green. Kapp attempts to repair his equipment in order to contact the alien presence, but the Planet People destroy his efforts. They try to persuade him to join them but he refuses, convinced now that his family are dead. Quatermass, aided by Gurov, who has travelled to London from Moscow, assembles a team of scientists to find a solution. He deliberately selects old people for the task as they are immune to the call of the alien force. Quatermass decides to set a trap. He plans to fake the presence of a gathering of a million young people at Kapp's observatory and, when the force comes, to detonate a 35 kiloton nuclear weapon. It is a focused charge where most of the force will go upwards, causing little damage in the area. Quatermass does not believe this will be sufficient to destroy the alien machine but he hopes that it will shock it enough to make it go away. Kapp volunteers to stay behind with Quatermass to help detonate the bomb. The pair set up the trap and wait in darkness. Suddenly, Kickalong appears with a group of Planet People, including Quatermass' granddaughter, Hettie. Kapp tries to warn them away but is shot and killed by Kickalong.
The light appears, indicating that the alien force beam has arrived, but the shock of seeing his granddaughter among the Planet People causes Quatermass to suffer a heart attack. She has recognised him too and struggling to reach the detonator button, Quatermass is aided by Hettie and together they detonate the bomb. Later in a world that is recovering from the recent fall of civilization, Gurov tells us: "The message was taken. It has not come again. We pray it will never come again".
This episode originally aired on 14th November 1979 on the ITV network and was watched by 11.2m viewers in the UK. The 1979, four-part, mini series Quatermass (also known as The Quatermass Conclusion or Quatermass IV) is airing weekly from Tuesday 19th May. Stars John Mills, Simon McCorkindale, Barbara Kellerman, Ralph Arliss, Rebecca Saire, Toyah Willcox, David Yip, Alison Dowling.
• Talking Pictures TV is An Archive Film & TV Channel. Available on the following platforms/channels: Freeview 81, YouView 81, Freesat 306, Sky 328 and Virgin 445.