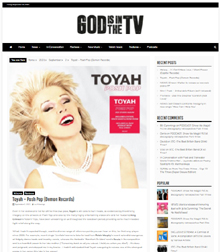 Another positive review of Posh Pop, this one from God Is In The TV.
Toyah – Posh Pop (Demon Records)
Even in her sixties and not far off her free bus pass, Toyah is still able to turn heads, as evidenced by the striking imagery on the artwork of Posh Pop, and also by the many highly entertaining videos she and her husband, King Crimson's Robert Fripp, have been unleashing on us throughout the lockdown period, providing some much-needed light relief along the way.
What I hadn't expected though, was the diverse range of reference points you can hear on this, her first long-player since 2008. For example, recent single 'Levitate' seems to take its lead from Roisin Murphy's recent splendid resurgence, all fidgety dance beats and breathy vocals, whereas the fantastic 'Barefoot On Mars' recalls Bowie in its composition and is a heartfelt paean to her late mother ("Turned my back on all you valued, I held you when you died") – it's deep and poignant, and stopped me in my tracks – I hadn't anticipated that Toyah was going to release one of the strongest songs in her canon this late in her career!
Elsewhere, 'Zoom Zoom' is seventies rock, pop and glam all rolled up and smoked in one pipe, while 'Monkeys' is pleasingly off-kilter in its delightful chorus.
• Continue reading at God Is In The TV. See more Posh Pop reviews.