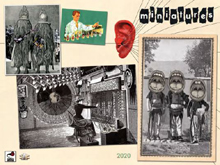 A new Toyah track with Simon Darlow and Bobby Willcox features on the album release Miniatures 2020. The track Future Dreaming is what Simon Darlow describes as a "theatre production in 3 parts that had to fit in a minute … from star birth to the peace of the infinite."
Former Mott The Hoople keyboardist Morgan Fisher released an obscure underground album in 1980 called "Miniatures". It was effectively a collection of 52 "miniature masterpieces", i.e. tracks of one minute length or less by a myriad of music legends and cult figures. Although at the time, the album flew pretty much below the radar it has over the years had a lasting and continually growing influence.
• Continue reading at toyahwillcox.com.