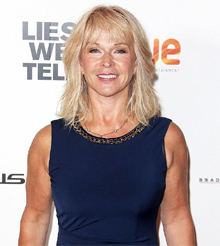 BBC's warning is a bit of a Brum do for pop star Toyah
Singer Toyah Willcox, who had a hit in the Eighties with It's A Mystery, is baffled as to why the BBC slapped a warning on episodes of Brum, the harmless BBC children's show she narrated.
A notice on iPlayer repeats told viewers the series may reflect out-of-date 'language and attitudes of the Nineties'.
The flame-haired singer tells me: 'I can't think why they did that. Was it because of the Birmingham accent? Is it sexist in some way? I'm sure we never impersonated a black person.' Toyah adds: 'I always refused to do anything if it was offensive. Brum was written by Anne Wood who made Teletubbies and she was on top of all that sort of thing.'
The BBC says the notice was added in 'error' and has been removed from Brum episodes. Perhaps it is the BBC, with its determination to censor TV classics, that is out of touch with today's audiences?
• Continue reading at the Daily Mail. (Photo © Clark Enwell/BackGrid)