Stratford Herald: Toyah Talks Peter And The Wolf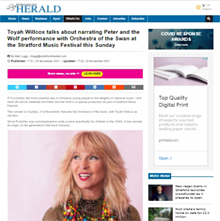 Toyah Willcox talks about narrating Peter and the Wolf performance with Orchestra of the Swan at the Stratford Music Festival this Sunday
It's probably the most powerful way to introduce young people to the delights of classical music – and fresh life will be breathed into Peter and the Wolf in a special production as part of Stratford Music Festival.
The concert on Sunday, 21st November, features the Orchestra of the Swan, with Toyah Willcox as narrator.
Since Prokofiev was commissioned to write a piece specifically for children in the 1930s, it has worked its magic on the generations that have followed. The marriage of the tale of Peter defying his grandfather's advice with orchestral representations of the various characters, remains a brilliant device to open people's eyes to the personality and potential of classical music.
And the role of narrator is one that has attracted some extraordinary names – Toyah joins a list that includes the likes of David Tennant, Alice Cooper, Sir John Gielgud, Dame Edna Everage and Patrick Stewart among many others.
• Continue reading at Stratford-Upon-Avon Herald. NB. Toyah has been replaced by David Troughton – See above!