Posh Pop Tour 2022: The Exchange, Sturminster Newton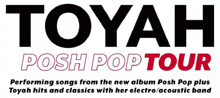 Toyah onstage at The Exchange in Sturminster Newton last night (Friday 25th February), a date from the Posh Pop Tour.
The set list included Thunder In The Mountains, Dance In The Hurricane, Neon Womb, Levitate, Obsolete, Summer Of Love, Good Morning Universe, Brave New World, Rhythm In My Heart, Danced and Take Me Home. Please click on the photos below to view larger versions.
• Browse Dreamscape's Posh Pop Tour archive and Posh Pop archive. The tour plays The Flying Fish in Ilminster tonight! (Thanks to Ian | Photos © Ian Davis)