Posh Pop: Album Review By 'At The Barrier'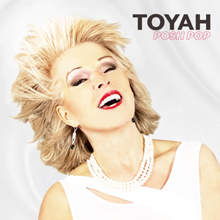 Anthems, hope and escapism – it's all there on the first Toyah album for 13 years!
Release Date: 27th August 2021
Label: Demon Music Group
Formats: CD / CD+DVD / Vinyl / Digital
"Thank you, Toyah, for a great album. And welcome back – we've missed you!"
The last time Toyah graced these pages was back in May, when we reviewed the reissue of her 1980 album The Blue Meaning. In that review, we gave a brief a resumé of what Toyah has been up to in recent years, including a mention of the hilarious You Tube postings, Toyah and Robert's Sunday Lunch (and if you haven't seen this yet, check it out – it's unmissable!) and releasing her (until now) most recent album, 2008's In The Court of the Crimson Queen.
Well… She's back, and how!! Posh Pop is Toyah's first album of new material for 13 years, and it's a blast. Toyah herself is very proud of Posh Pop, considering the album "A career best," and she could very well be right. It's a joyful album that draws copiously on Toyah's glam and punk roots and builds upwards from there; the 80's synth sound is still around, tempered and enhanced by lots of stunning rock guitar from Toyah's husband, "Bobby Willcox" and the lyrics are clear and excellent, covering topics as diverse as the lockdown "Zoom Boom," space exploration, ageing, bereavement, the devastation of war, the fate of humanity and the Beirut explosion. And it all comes enclosed in a wrapper of addictive, anthemic rock and pop.
• Continue reading at At The Barrier. The album is released on Friday. Pre-order Posh Pop here.