Official Charts: National Album Day – 80s Theme Boosts Sales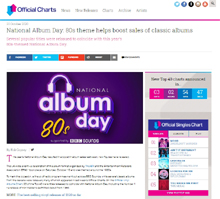 National Album Day: 80s theme helps boost sales of classic albums
Several popular titles were reissued to coincide with this year's 80s-themed National Album Day.
This year's National Album Day resulted in a boost in album sales last week, new figures have revealed.
The UK-wide event – a celebration of the album format organised by The BPI and the Entertainment Retailers Association (ERA) – took place on Saturday, October 10 and was themed around the 1980s.
The BPI reports that of all the albums released to coincide with National Album Day, 25,000 copies were sold on vinyl, contributing to a total of just under 112,000 vinyl albums sold that week – a week-on-week uplift of 9.2%.
The Saturday of National Album Day itself (Oct. 10) saw vinyl sales rise by 24% on the previous Saturday (and 19% year-on-year), while the Friday – the day the albums were largely all released – saw a 44% year-on-year spike.
One of this year's National Album Day ambassadors, Toyah Willcox said: "This year's re-releases encouraged music lovers to buy timeless music. I like to think NAD has also encouraged new up-coming artists to think about making full albums as their right of expression, thus keeping the high street retailers stocked and trading in decades to come."
• Continue reading at Official Charts.