North Devon Gazette: Great Torrington Welcomes Toyah To Town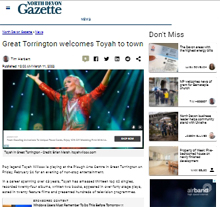 Pop legend Toyah Willcox is playing at the Plough Arts Centre in Great Torrington on Friday, February 24 for an evening of non-stop entertainment.
In a career spanning over 43 years, Toyah has amassed thirteen top 40 singles, recorded twenty-four albums, written two books, appeared in over forty stage plays, acted in twenty feature films and presented hundreds of television programmes.
This is a unique chance to experience Toyah in an intimate venue performing a set of her loved hit singles and classics, alongside a selection of modern days classics, including 'Sensational' and 'Dance In The Hurricane', plus songs from her eagerly awaited new studio album "Posh Pop".
• Continue reading at North Devon Gazette.