National Album Day: First Wave Of Ambassadors Announced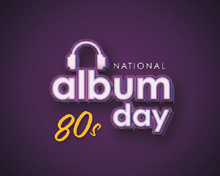 Billy Ocean, Blossoms, La Roux, The Psychedelic Furs & Toyah Willcox
National Album Day will return for its third edition on Saturday 10 October with the perfect antidote to lockdown blues – a celebration of arguably music's greatest decade, the Eighties!
Toyah Willcox, who emerged from post-punk to become one of the defining voices of the 80s, said: "I am supporting National Album Day because it is important that future generations do not miss out on the fantastic experience of listening to a whole album of songs…A culture could be lost if listeners never experience how life changing it is to discover a hidden gem not deemed worthy of being a single by a record company, ie Bowie's 'Lady Grinning Soul' on Aladdin Sane. When I heard this song I felt the artist was speaking directly to me. Listening to an entire album is enriching and allows the listener precious time to connect with creativity… Albums are akin to a great book, a great party, a brilliant day in the park…they are the whole meal."
• Continue reading at the National Album Day website.