Guitar.Com: Robert Fripp Reacts To Because The Night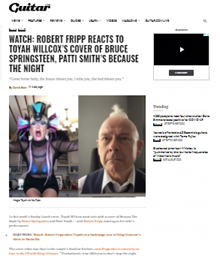 Robert Fripp Reacts To Toyah Willcox's Cover Of Bruce Springsteen, Patti Smith's Because The Night
"Come home baby, the house misses you, I miss you, the bed misses you."
In this week's Sunday Lunch cover, Toyah Willcox went solo with a cover of Because The Night by Bruce Springsteen and Patti Smith – with Robert Fripp reacting to his wife's performance.
The cover video was shot in the couple's familiar kitchen, sans Fripp who is currently on tour in the US with King Crimson. "Transatlantic time differences don't stop the night belonging to the Sunday Lunch lovers," Toyah captioned the video.
• Continue reading at Guitar.Com.