Eastbourne Herald: Toyah Lines Up Eastbourne Date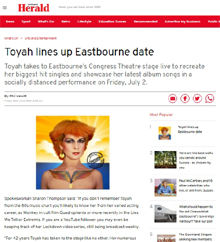 Toyah takes to Eastbourne's Congress Theatre stage live to recreate her biggest hit singles and showcase her latest album songs in a socially distanced performance on Friday, July 2.
Spokeswoman Sharon Thompson said: "If you don't remember Toyah from the 80s music chart you'll likely to know her from her varied acting career, as Monkey in cult film Quadrophenia or more recently in the Lies We Tell or Extremis. If you are a YouTube follower you may even be keeping track of her Lockdown video series, still being broadcast weekly.
For 42 years Toyah has taken to the stage like no other. Her numerous awards and nominations for singing, writing and acting include an honorary doctorate from the University of Central England in Birmingham (2001), a star on the King's Heath Walk of Fame and a star on Birmingham's Broad Street Walk of Stars. In 2018 Paul McCartney awarded Toyah a LIPA Liverpool Institute for Performing Arts Companionship for outstanding achievement in music, drama, performance and media.
• Continue reading at the Eastbourne Herald.