Daily Star: Toyah Wows With Ageless Beauty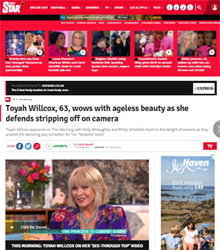 Toyah Willcox, 63, wows with ageless beauty as she defends stripping off on camera
Toyah Willcox appeared on This Morning with Holly Willoughby and Philip Schofield much to the delight of viewers as they praised the stunning pop sensation for her "fantastic looks"
This Morning viewers were left in absolute awe of pop sensation Toyah Willcox, 63, who appeared on the show this morning.
Toyah joined Holly Willoughby and Philip Schofield for a spot on the sofa to discuss her transformation from punk princess to cabaret queen – and while she was chatting away, fans couldn't help but focus on her glam exterior.
Toyah was wearing a purple and floral plunging top with a stunning blue necklace as she opted for a full face of glam makeup.
The blonde beauty had her hair neatly flicked out for volume and opted for a dark eye look and finished off with a bright red lip – and she certainly looked every inch of glamour as she spoke about her upcoming plans.
• Continue reading at the Daily Star. See also the Liverpool Echo.