Consequence.Net: Toyah and Robert Cover "Chop Suey"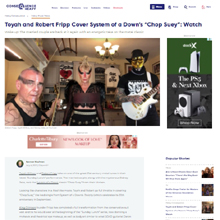 Toyah and Robert Fripp Cover System of a Down's "Chop Suey": Watch
Wake up! The married couple are back at it again with an energetic take on the metal classic
Toyah Willcox and Robert Fripp take on one of the great 21st century metal tunes in their latest "Sunday Lunch" performance. The married couple, along with the mysterious Sidney Jake, rock the System of a Down classic "Chop Suey" from their kitchen.
Looking like characters in a Mad Max movie, Toyah and Robert go full throttle in covering "Chop Suey," the lead single from System of a Down's Toxicity (which celebrates its 20th anniversary in September).
King Crimson founder Fripp has completed a full transformation from the conservative suit vest and tie he would wear at the beginning of the "Sunday Lunch" series, now donning a mohawk and theatrical eye makeup, as well as body art similar to what SOAD guitarist Daron Malakian sported in the official "Chop Suey" music video.
• Continue reading at Consequence.Net.