Brighton News: Music Icon Toyah Announces Brighton Concert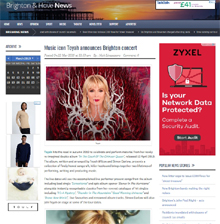 Toyah hits the road in autumn 2019 to celebrate and perform material from her newly re-imagined double album 'In The Court Of The Crimson Queen', released 12 April 2019. The album, written and arranged by Toyah Wilcox and Simon Darlow, presents a collection of finely honed songcraft, killer hooks and brings together two lifetimes of performing, writing and producing music.
The live dates will see the accomplished live performer present songs from the album including lead single 'Sensational' and epic album opener 'Dance In The Hurricane' alongside instantly recognisable classics from her revered catalogue of hit singles including 'It's A Mystery', 'Thunder In The Mountains' 'Good Morning Universe' and 'Brave New World',  live favourites and renowned album tracks. Simon Darlow will also join Toyah on stage at some of the tour dates.
• Continue reading at Brighton & Hove News.