Birmingham Mail/Live: Birmingham Celebs & The Lockdown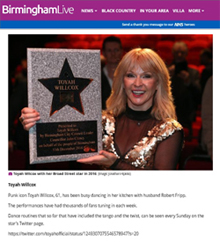 This is what Birmingham's celebrities are doing at home during the coronavirus lockdown
Lady Leshurr, Jamelia, Richie Anderson and Toyah Willcox are among the list of Birmingham celebrities using social media to entertain the public during the coronavirus pandemic.
Many of us may be struggling with boredom, home-schooling and working during self-isolation – but we are not alone. Birmingham's celebrities are finding it tough too.
Punk icon Toyah Willcox, 61, has been busy dancing in her kitchen with husband Robert Fripp.
The performances have had thousands of fans tuning in each week. Dance routines that so far that have included the tango and the twist, can be seen every Sunday on the star's Twitter page.
The singer and actress has also updated her website with ten top tips filled with ideas of how to spend your time during lockdown.
Some of the star's creative ways of looking after yourself in quarantine include checking your posture, avoiding sweets, and cooking.
• Continue reading at the Birmingham Mail/Live.